Four Paragon riders, and one friend from another local club, took advantage of the long weekend to take on a coastal ride with a difference. Usually when the Paragon head to the coast it's Brighton that's in our sites, but on June 2, it was Dover. And this was a coast ride with a difference, tackled on paths, bridleways and bye ways on a range of off road bikes.
The route is part of the North Downs Way route that was opened up by Cycling UK back in 2017, and ride leader for today, Simon Richardson, had ridden all 136 miles of it from Farnham to Dover last year. As he enjoyed it so much he decided to take a few of his club mates on the same ride this summer.
Joined by Jon Masters, Steve Roach, Darren Peachey and friend Gareth Parr (who, as you can see from the pictures rides for the Addiscombe CC – we don't hold it against him) Simon set off at 6am from Caterham hoping for a sunny day and an easterly wind.
Well, we got the sun.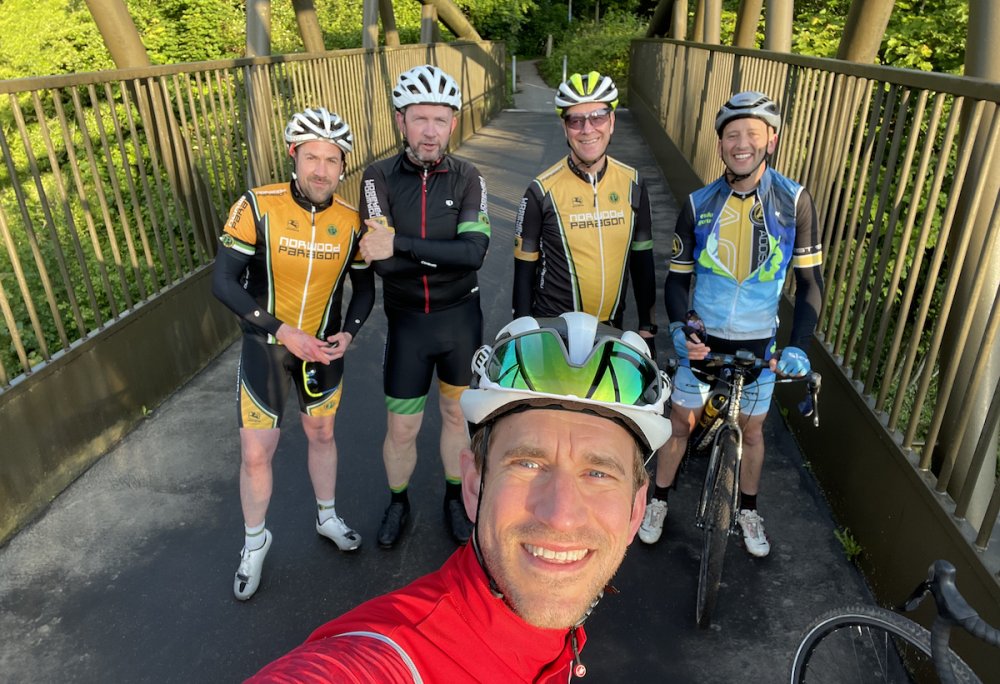 The group set off aiming to make Hollingbourne, just north of Maidstone in three hours, where another member, Simon Jepheart would join us. It was all going so well for the first four miles before Gareth punctured. We figured an Addiscombe member – who has qualified for Ironman Hawaii this year no less – would be fine changing a tube so stood around, making a few lighthearted jokes at his expense, and left him to it.
Eventually he had to sheepishly admit to having left his road tubes in his saddle bag. Thankfully we had plenty of spares, and we now had plenty of ammunition should he dare to criticise the Paragon. Oh, and there's the small matter of us winning the 2021 interclub!
The first three hours of the ride is picturesque, mainly following the Pilgrims Way which runs along the foot of the North Downs. The treelined paths are stunning at this time of year, and so quiet we met just a few walkers and runners all morning.
The route continues along this idyllic line of chalk downs that now houses many vineyards which are producing award winning wine. Geographically speaking this line of chalk runs all the way down to the champagne region of France, and some of the biggest champagne houses are now investing in Kent.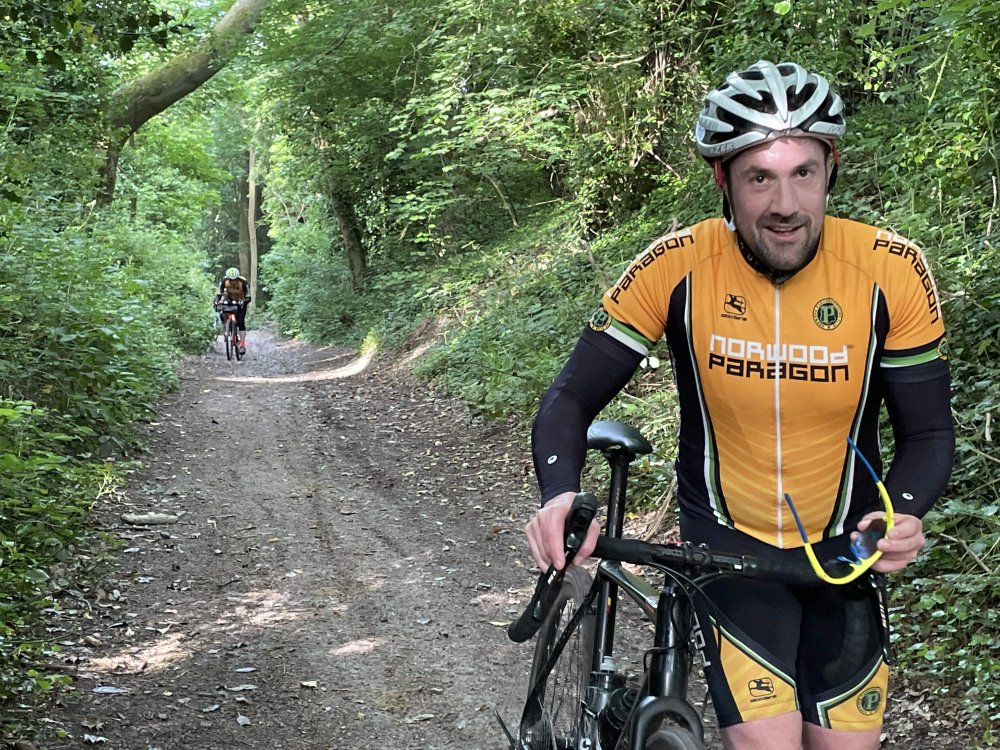 Only two of us managed to this climb up on to the top of the north downs. It's steep, loose and rutted, so not easy to keep momentum.
With only one wooded climb between Hollingbourne and Canterbury we made good progress and Gareth only punctured once more. In his defence it was a pinch puncture on a fast descent, so not his fault. But it meant we had to donate yet another tube. Maybe we should invoice the Addiscombe's board?
The final run in to Canterbury is along the gently flowing Stour along a walking a riding path that meanders along next to the river. Full of runners, walkers and riders, meaning it's a slow mooch into the city. This lovely path spits you right into the centre of town were we had a table booked at Kitch, a nice little cafe right next to the famous Kings Bridge.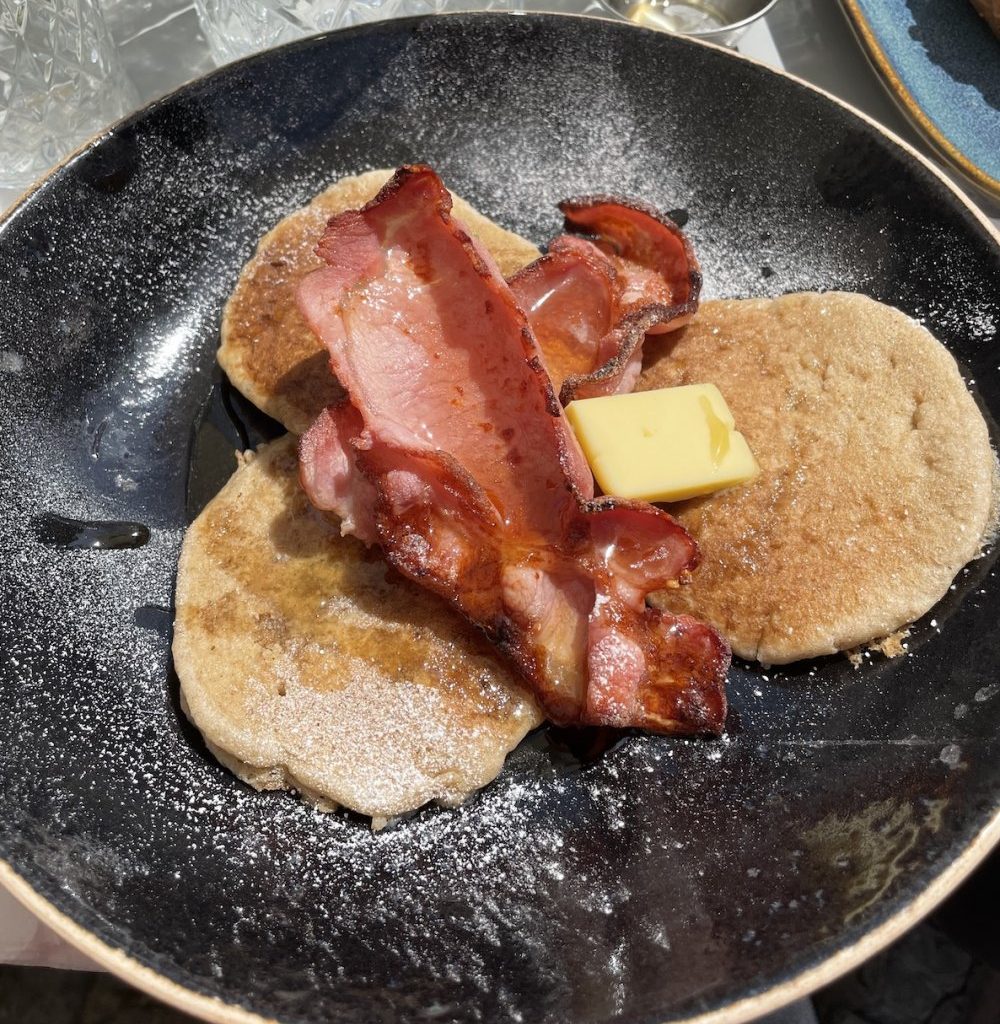 Rumour has it the only reason Simon agreed to lead this ride was so that he could get gluten free pancakes in Canterbury.
After Canterbury you're on the homeward run down to Dover, but although there are no genuine hills there are some sections where it really starts to bite, not least because you have around six hours of riding in your legs by now. Thankfully the group made it to Dover for 3.30pm where they celebrated with ice creams, some time on the beach with family and, er, a couple of cans of Stella on the train home.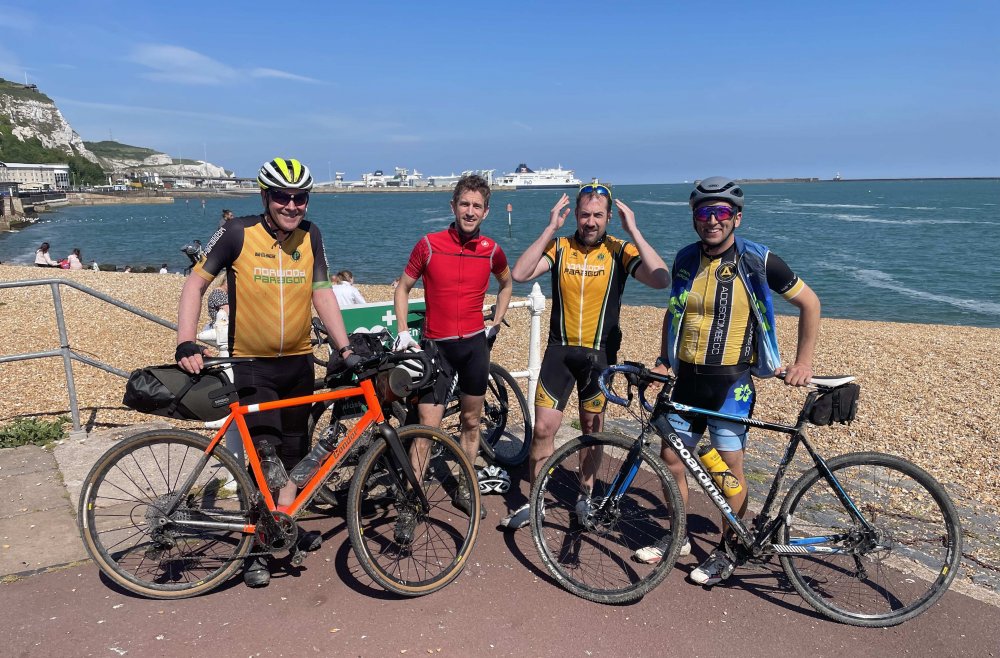 The group, minus Steve who has gone off to find his family, are all smiles at the end of the ride by Dover beach.
We're planning on doing the ride again next summer, so keep an eye on the website for more details.