It's T-minus 1 month before the club event everyone's talking about. Yes, the summer barbecue is ready for launch. Book your seat at the hottest event in the calendar. Here's how…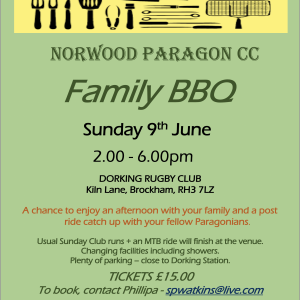 It's been a while since we've had big Paragon social so we've lots to catch up on. A chance for our longest standing members to meet up with our newest. Find out what our active racing members have been up to including our team 1904RT. Why not ride out in the morning on the club run – including MTB – and meet the family at Dorking Rugby Club (showers and changing available).
To book a place for you and your family please email me at spwatkins@live.com and make your payment to the club via Paypal (search Norwood Paragon), or BACS, Sort: 090154, Acc: 09313483.
LET'S MAKE THIS THE PARAGON EVENT OF THE YEAR!
BOOKINGS ASAP as we need to let the caterers know.
Many thanks,
Phillipa
Social Sec.